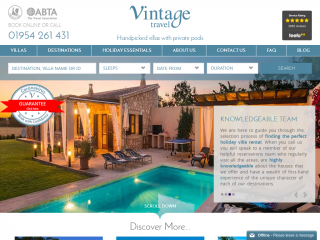 Whether you are one of our many returning clients who use our services each year or whether you are yet to 'discover' us, I extend a very warm welcome to you.

Now in our third decade of business, we are still a very independent company, a rare breed nowadays, and we pride ourselves on delivering good 'old fashioned' service. We realise that not everyone wants to book online and that travel brochures still have a place in helping to select the perfect holiday.

When you call us you will speak directly to a member of our knowledgeable team. We will happily talk to you for as long as you like, passing on our 'insider knowledge' or tips to ensure you get the perfect property.

No rush, let's just make sure that it's right for you.