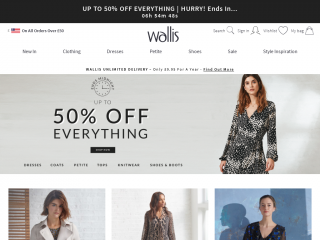 Established in 1923, Wallis is a premium high street brand offering stylish, exclusive and contemporary fashion for women. We create a fashion shopping experience that is inspiring and personal to our customers through our unique product offering, store environments, personalised website and excellent customer service.

From our Head Office based in the heart of London's West End we service over 550 stores across 20 countries, when we add in our biggest store, the Wallis website, we reach our customers in over 126 countries worldwide.

Our product has a unique feminine handwriting and we're recognised for delivering quality products across all departments. We produce new collections and exclusive prints every month, designed and developed by our in-house design and buying team.

We operate from within both standalone stores and shop in shop environments, we can be found in concession partners such as Debenhams, House of Fraser, Tesco and Outfit. Internationally we can be found throughout Europe, the Middle East and Asia.

Wallis Digital is our largest and fastest growing store with over 5000 product lines. With exclusive online products, our website is updated daily with new collections. As with our stores we work with Digital partners, so can be found on Shop Direct in the UK, Ezibuy in Australia and Zalando in Europe.

Wallis is fast paced, aspirational, exciting and fun and our culture reflects this. With passion and enthusiasm for our jobs, our product and our Brand, we are very proud of the role we all play in making Wallis so successful. Our people show innovation, take ownership, challenge the norm and play an active part in driving our business forward.