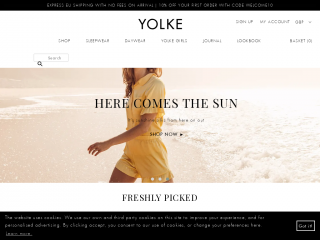 Launched in London in 2013, by Ella Ringner & Anna Williamson, YOLKE began life as a luxury sleepwear brand. Having gained the reputation as the new silk label on the block with a unique blend of stretch silk, the YOLKE style became synonymous with classic styles with a playful twist.

Now independently run and led by Ella, 2018 saw YOLKE's collections expand with the introduction of LiTTLE YOLKE, a matching children's wear collection to sit alongside the classic sleep line.

In response to the pyjama trend walking out of the bedroom, YOLKE launched its first Ready-to-Wear collection to provide the perfect day-to-night balance. Cut from high quality stretch silks and light cottons, the styles have been designed to move with you as you go about your day.

In 2019 YOLKE made the conscious decision to launch a sustainable Ready-to-Wear collection with a focus on eco-friendly plant-based fabrics that are locally sourced and produced in Europe working with family run factories. Encompassing sustainability in this collection, YOLKE has introduced linen and viscose to their fabric offering. These sustainable fabrics maintain a lavish and organic feel whilst preserving YOLKE's signature relaxed style.

2020 will see the exciting launch of YOLKE's first Homeware collection. YOLKE Home sees the arrival of crisp linen tablecloths and matching napkins, accompanied by silk and cotton cushions woven in the Cotswolds.